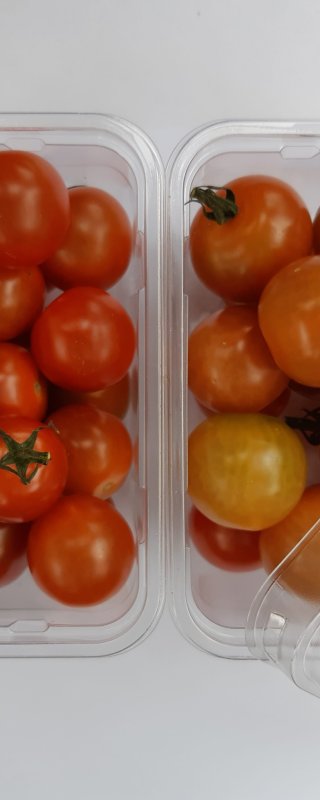 Punnets
Plastic or cardboard punnets are used to hold, transport and sell fresh product. Examples are berries, raspberries and blackberries that are sensitive to bruises and are therefore best preserved in small sturdy packages. The products are packed into a variety of container types and sizes depending on market demand. Well-known is the punnet with a separate clip-on-lid, and the clamshell, a one-piece container consisting of two halves which can be closed. Punnets may also be closed by top-seal foil. Flowpack around open punnets is also used.
Cherry tomatoes packed in a punnet with clip-on lid. Photo by WUR
Punnet types
Products can be packed into a variety of container types and sizes, also depending on market demand. Punnets / clamshells with a clip-on lid are common, but heat seal plastic is also used. The bottom of the punnets may be padded with bubble wrap to minimize vibrational damages.
The macro perforations in this package allow fresh air exchange between products inside the package and the environment. Photo by WUR.
Macro perforations
Often macro perforations are visible in a flowpack or package with topseal. These visible holes can have multiple functions such as prevention of suffocation of the product (prevention of too low O2) or prevention of fungal growth (prevention of too high humidity).
This package with basilicum is well sealed on all edges. Photo by WUR.
Resealable topseal
Topseal packaging is often seen with products such as strawberries, berries, and all kinds of vegetables and salads. It can contain micro- or macro-perforation. The topseal packaging is sometimes resealable, which is easy to use for consumers. A good seal serves the quality of the product.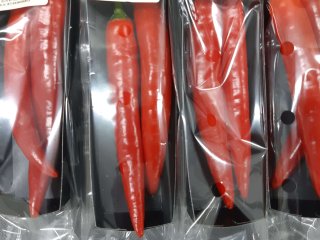 These chili peppers are well packed in small units of cardboard package and flow-pack with macro-perforations. Photo by WUR
Cardboard punnets
Cardboard punnets are available in a wide range of sizes, shapes, and capacities. Among other things, they can be combined with a plastic flowpack to protect the product from dehydration.
Attention! A basilicum leaf is captured between the topseal and of the plastic punnet. Photo by WUR.
Damaged topseal
Topseal which is accidentally pierced or does not fit closely to the tray can have consequences for product quality. It can lead to faster senescence and dehydration, especially near these openings. Therefore, pay extra attention to the quality of products in packages with damaged seals.
Attention! Tomato punnets in flowpack with macroperforations which are blocked in the lower layer packages, resulting in higher risk on fungal growth. Photo by WUR.
Prevent blockage of perforations
Plastic tomato punnets are often wrapped with a macro-perforated foil or topseal. To prevent fungal growth on the calices, it is important to make sure the perforation is not blocked. Packing in double layers blocks the holes at the top of the lower layer punnets. This increases the humidity in the package and the risk on fungal growth.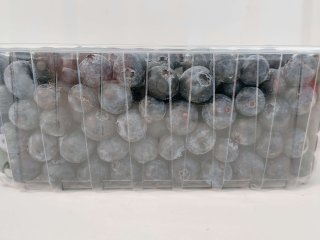 Attention! When blueberries are packed in a thick layer, the lower fruits are damaged by the overlying weight. Photo by WUR.
Packed in a too thick layer
Especially with soft fruit, the layer thickness is important. Berries, strawberries and cherries cannot lie too thick. The weight of the upper fruits can damage the lower fruits. Quality control of the lower fruits in the packaging is therefore important.
Other packaging in practice