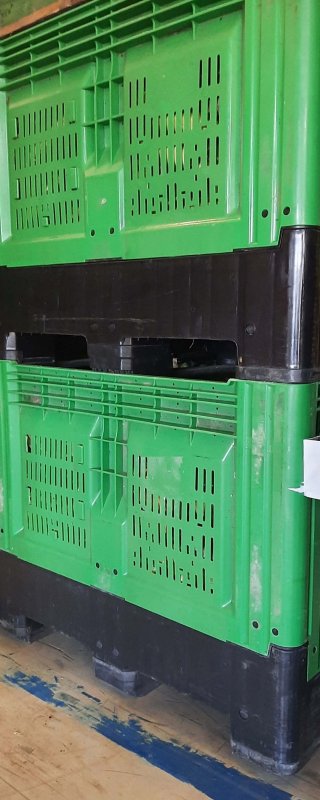 Industrial packaging
Industrial packaging is used in phases in the chain before the product is packed in its final consumer packaging. Here we mention a number of examples with properties that must be taken into account in order to maintain the quality of the product.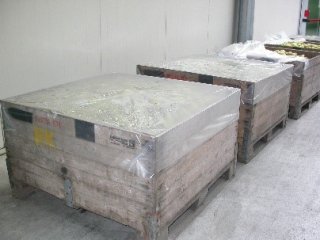 Wooden bins with pears. Photo by WUR.
Wooden stacking bin
Wooden stacking bins are used for storage and transport of certain fresh products in bulk. For example for the storage of apples and pears. Other names are: fruit bin or storage bin. Pears, in particular softer pears, should not be stored in fruit bins that are too deep. In the lower layers, pressure damage can then occur due to the weight of the pears above. The occurrence of rot can be higher in the center of the bin or in the lower layers due to higher humidity. Hygiene is a point of attention, sometimes fungi grow on the wood.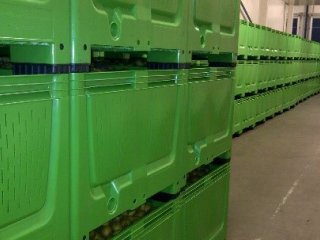 Plastic stacking bin. Photo by WUR.
Plastic stacking bin
Just like wooden bins, plastic stacking bins are used in the storage and transport of fresh products in bulk. The plastic bins are usually easier to stack and easier to clean. Here too, the quality of the product deeper in the bin may differ from the top layer. Points of attention are differences in the bin for rot, dehydration, color, and pressure damage. Bins should not be too full, otherwise damage will occur when stacking. Also, there should be sufficient ventilation holes (not covered by packaging material) for sufficient air exchange to the center of the bin.
Big bag with onions. Photo provided by N. Wols
Big Bag
The "big bag" is, as the name implies, a packaging for a large volume. This bag has a high load capacity. It is used, among other things, for bulk packaging of onions, potatoes, cabbages and carrots. Big bags that are suitable for agricultural products must be used. Air stripes and ventilation holes in the woven bag should ensure sufficient exchange with the ambient temperature and air conditions.
Other packaging in practice
// Add an optional description