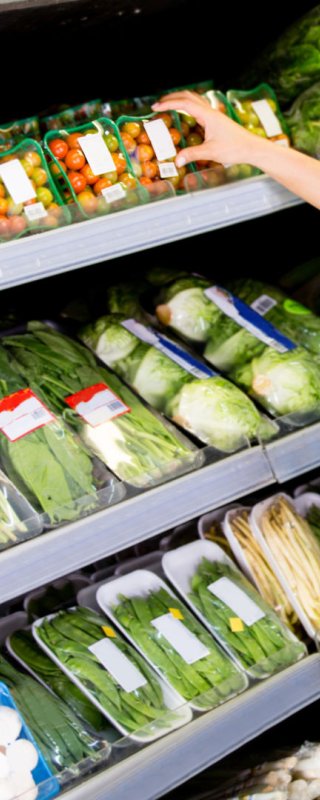 Packaging of fresh produce
Packaging is commonly used for transport, storage and sale of perishable products. It is a broad concept that can be applied to a single product (e.g. fresh-cut vegetables) or to consolidate a bulk product (e.g. cardboard boxes on a pallet). Packaging is not used solely for marketing reasons, a packaging concept fulfils one or more specific functions essential for the preservation of perishable products.

The extended distribution chains and the many different processing methods applied to perishable products are only possible thanks to the use of packaging concepts.
Partially wrapped cucumbers. Photo by Michael Ebardt/Shutterstock.com
To wrap or not to wrap; that's the question
Although packaging technology is used with great success for decades, a new challenge is arising nowadays. How can we make packaging more sustainable and circular?
One of the simplistic solutions is to ban the use of fossil-based packaging for perishable products. This solution may match the needs of a small-scale chain, it is however not suitable for large commercial chains.
The use of biobased or recycled plastic material will help to realize more sustainable and circular packaging concepts. These novel materials do bring new constraints that need to be addressed for the specific market of perishable products. A new equilibrium need to be found between product needs and new sustainable packaging concepts.
Overview most important packaging functions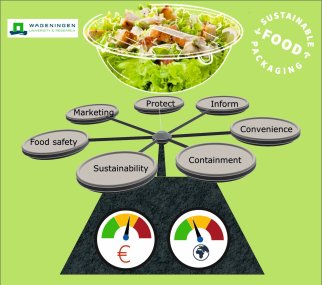 Overview main functions of packaging used for fresh produce. Illustration by WUR.
Basic functions of packaging
Unpacked and packed cut lettuce. Photo by WUR.

Maintaining product quality

A packaging can protect the products against its environmental conditions. Fruits and vegetables can be sensitive to moisture loss, mechanical damage, oxidation, microbial processes, light, and so on. By using a suitable type of packaging, the product spoils less quickly and the shelf life is extended.
For instance, a flowpack with macro perforation or a container with a clamp lid help against moisture loss. Special flowpack bags (possibly with laser perforations) provide a protected gas condition against oxidation and microbial processes. Paper sheets such as chicory packaging can block out light and prevent green discolouration.

Modified Atmosphere packaging for papaya. Photo by WUR

Marketing

Packaging can often be used to maximize sales. The use of colorful packaging, specific shape, slogan and logo can play an important role in the purchase of the product. Increasing sales volumes by packing several items together and giving them a promotional price is one of the examples.

Packed fruits and vegetables. Photo by Arctic ice/Shutterstock.com

Food Safety

Packaging plays a role as a barrier to avoid microbial cross-contamination. The microbial growth may also be slowed down by certain modified atmosphere conditions of the packaging headspace. To reach this, the packaging needs good gas permeability conditions. In both cases, a hygienic way of working during packaging is important to limit initial contamination as much as possible.
Packaging can also protect against contamination with chemical substances. For example, an extra plastic bag prevents the migration of chemical printing ink or fragrances from cardboard box onto the packaged product.

Keeping the lemons together with a net. Photo by Nikola Spasenoski/Shutterstock.com

Containment

One of the functions of packaging is to offer the product to the consumer in an easy way, bundled. Packaging fulfills this role in various ways: a simple paper bag or a plastic net for unprocessed products, a cardboard box or plastic trays for small berries, for example. Packaging often also helps to prevent mechanical damage caused by movement within containers.

Fruit declaring themselves as organic by the label on the package. Photo by Ana Iacob Photography/Shutterstock.com

Information and labeling

Packaging can contain all kinds of information. Examples are the name and variety of the product, country of origin, class and size, weight of the content, and barcode (price). The information given may be required in certain cases to meet the legislation on food labelling such as a 'best-before date' on some products.

Ready to eat packed meal salad. Photo by artemevdokimov/Shutterstock.com

Convenience

One of the functions of packaging is to present the product to the consumer in an easy way. Mild processing is often required to offer the product ready for consumption. The packaging helps to maintain the quality of processed products thanks to specific properties. Examples are a flow pack with freshly cut vegetables and bowls with fruit or meal salads that can be eaten immediately.

Diverse types of packaging films in the laboratory of WUR. Photo by Verse Beeldwaren.

Sustainability

Packaging can be made of different materials. Unfortunately, not all materials are sustainable. Sustainability depends on the source of the material: made from fossil energy or from biobased material. Sustainability also depends on the processing of the packaging after use. Can the packaging be reused, such as folding crates? Can they be recycled? A mix of packaging materials in a packaging concept is often seen as less sustainable because of the complex/impossible separation processes. Many developments are currently taking place to make packaging more sustainable.
Risks on product damage by misuse of pacakaging
| Property packaging | Example of misuse | Risk |
| --- | --- | --- |
| Moisture barrier to limit dehydration | Too little ventilation | Mould and rot |
| Mechanical protection | Too low packaging rate | Damaged product |
| Enable heat dissipation of product through ventilation holes | Too much perforation/ too many ventilation holes | Dehydrated product. Collapse of boxes due to low firmness of the packaging |
| Enable heat dissipation of product through ventilation holes | Stacking too tight or occlusion of holes | Accumulation heat produced by product and thus loss of quality |
| Modified air to limit product activity and extend shelf life | A non-optimal air composition due to too high or fluctuating temperature | Off-taste, internal quality problems |
| Modified air to prevent discoloration | A non-optimal air composition due to too high or fluctuating temperature | Browning caused by fermentation |
| Modified air to restrict microbial growth | A non-optimal air composition due to too high or fluctuating temperature | Discoloration and unwanted microbial growth |
More about packaging and preserving quality
How to design an optimal packaging
Boxes with strawberries in a box. Photo by Chatchai.wa/Shutterstock.com

Optimizing processes and distribution

Storage at the lowest possible temperature that is safe for the product is the key to also have a successful packaging.

Pack only the best product quality and avoid fluctuations in product quality all year round.

Minimize processing, handling and any unnecessary steps that can could cause mechanical damages.

Packaging research lab at WFBR. Photo by Verse Beeldwaren

Know and understand: measure

Regularly measure the respiration rate of your (processed) product.

Define the transpiration rate of the product as well as the acceptance limit for dehydration symptoms.

Define which quality criteria are essential for your product such as discoloration, off-odor and food safety.

Packaging researcher at work. Photo by WUR

Choose the best packaging option

Use a mathematical model to match the need of your perishable product to the packaging specifications.

Select the packaging material to meet the most important quality criteria; apply innovative technologies (laser micro-perforation, scavenger) to optimize your packaging concept.

Avoid over- and non-functional packaging.
Trends in packaging
Apples with various indications regarding sustainable use of product and packaging. Photo by HollyHarry/Shutterstock.com
There are various trends and developments in the field of packaging. Changing consumer needs have a major impact on both the product offered and the packaging. Important underlying trends at the moment are, for example, growth in the convenience segment and the emergence of new sales channels such as e-commerce and on-the-go consumption. Food safety regularly receives more attention due to outbreaks of certain diseases. In addition, we also have to deal with climate goals and there is growing social resistance to the use of plastic packaging materials. These trends present continuous packaging challenges, as well as opportunities for companies in the sector. For example, look at the rise of ready-to-eat vegetable meal packages and the rise of organically grown products.
In terms of sustainability, the aim is to achieve a more circular economy in which raw materials are conserved. This instead of the current linear economy, in which raw materials are extracted, products are made and then partly thrown away. This creates a hugh amount of waste and it depletes the earth's resources. Packaging also plays a role in this. For food packaging, it is difficult to achieve completely circular packaging because packaging must be food-grade, which makes it difficult to reuse food packaging. Worldwide, various countries have their own legislation and requirements regarding the sustainability of (food) packaging. The EU also has various guidelines within which countries operate.
Guide for sustainable packaging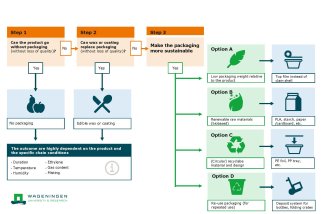 Guide for sustainable packaging of fresh produce. Illustration by WUR.
Explanation guide
Do not use packaging if it is not necessary (Remove)

Whether it is not necessary to use packaging, is determined by a variety of factors throughout the chain that affect the quality of the product and therefore potential product losses. Techniques such as wax and coatings can be a solution, provided that it is approved to apply it to food.

Use as little material as possible, both absolute and relative per product weight (Reduce)

An example of using as little material as possible this is the use of top foil instead of a clamp shell lid or a flow pack packaging.

Use materials made of renewable raw materials (biobased) (Replace)

Biobased materials may be biologically degraded or composted. Examples include bioplastics such as PLA, but paper and cardboard can also be included. Developments in more sustainable materials continue. For example, there are now materials where rice straw fibers from rice plantations are processed in fresh food containers.

Use recyclable materials or packaging (Recycle)

Some plastics are now recyclable. Examples include PE-film and r-PET trays. However, the use of recycled food packaging material is in many cases not yet permitted in the EU.

Choose reusable packaging

Industrial packaging is reused more often by means of a deposit system. Examples are the EPS crates and folding crates.
Determining the sustainability of packaging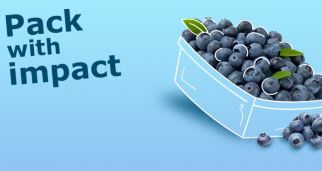 To pack with impact it is important to determine the impact of the packaging on sustainability parameters. Illustration by WUR.
Which packaging choice is actually the most sustainable for a certain product-packaging combination is determined by a multitude of factors and details (scale weights, production energy, food waste, etc.). In order to get a better picture of this, it is wise to calculate the environmental effects of packaged foods (over the entire chain), a so-called LCA analysis. This includes all kinds of factors from both the cultivation process and the production process of the material. It is important that this analysis also includes the food loss that is attributed to the packaging. Work is also underway to add indicators that estimate the contribution of packaging to litter and plastic soup. In addition, it is important to know to what extent materials can actually be recycled or composted well. Chemical analyzes of materials may be required to determine if the material is food safe and compatible with the recycling process.
WUR experts can help with issues related to sustainable food packaging. Various projects are being carried out in this area. For example, read more about the
Wrap or Waste
project here. Or read more about what
WUR can mean for companies
in this area.