Plastic bags and shrink foil
Plastic bags and shrink foil provide protection against external impact damages and reduce the moisture loss of products. Shrink foil is in direct contact with the product and thus provides resistance against water transport through the products surface. In bags, the relative humidity around the products increase and thus reduces the water loss from products. Both bags and shrink foil can contain macro- or microperforations
Polypack (polybag) with macro perforations reduces water loss by the product. Photo by WUR
Liners
Polyethylene bags in boxes ('bag-in-box') are frequently used. A well-known example is the Polypack (or polybag) for bananas. Polypack is a perforated bag that reduces water loss and protects fruits from abrasion damage.
This MA linerbag around pomegrantate is well closed by a twist and rubber band. Photo by WUR
MA-liners
MA linerbags can create a favourable gas atmosphere (O2, CO2) around the produce. It only serves its purpose when these bags are well closed. The bag's upper part is therefore often twisted together, fold and tied with a rubber band or a tape.
.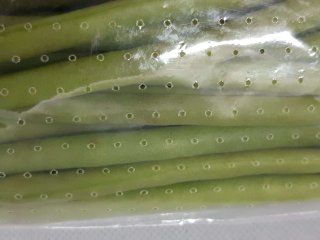 Green beans packed in hot-needle perforated bags. Photo by WUR.
Hot-needle perforation
Hot-needle perforated bags protect the product from damages and too much moisture loss, while respiratory gases (O2, CO2) freely exchange with the environment. Too much blocking of the holes, for example by a large label, can compromise these functions.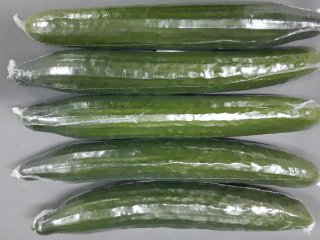 Cucumbers packed in shrink foil. Photo by WUR.
Shrink film
Transparent shrink film is especially being used for protection against too severe dehydration with quality loss as consequence, while keeping a good presentation to the customer. Shrink packaging is used on cucumbers and broccolis, for example.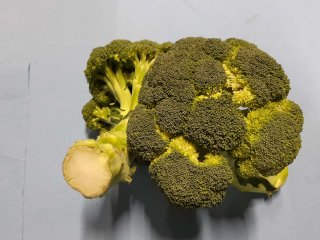 Attention! Water loss causes weight loss and reduced compactness of the broccoli head. Photo by WUR.
Broken package
Broccoli is often individually wrapped in shrink foil or flowpack. This protects the product from water loss. A broken package can cause quality loss.
Attention! Rough handling lead to bruises and skin damages of these apples. Photo by WUR.
Handling of consumer bags
Consumer bags contain a convenient number of units. A disadvantage can be that products easily shift within the packaging when lifting. For example, apples can bump into each other, causing bruises. These may not be visible at first glance when the damage is present on fruits in the middle of the bag.
Other packaging in practice