Other packaging materials
A wide range of additional materials are available for packaging, adapted to the specific product. They protect the product from damage, are used to provide information, to keep multiple units together and to provide convenience to the customer. When used correctly, these materials help extend product shelf life and reduce losses.
Papayas at retail protected by foam nets. Photo by WUR
Foam netting
Foam netting protects the fruit against damages. This serves especially fruit with a skin that is very susceptible to damages. Examples are papaya and pitahaya.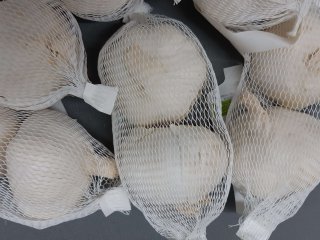 Garlic packed in units of 2. Photo by WUR
Nets
Nets are often used for products such as garlic and onions. These products have a resistant skin against damages and are not susceptible for water loss (shriveling).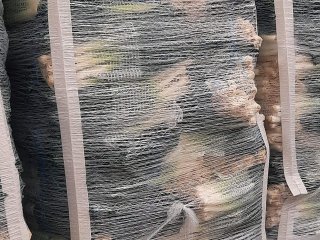 Netted pallet holding leek. Photo provided by N. Wols.
Pallet netting
Pallet netting is used for holding bulk products on the pallet. This netting can be used for products for which moisture would increase too much, in case of the use of stretch film. Examples are onions and potatoes. It is also being used for bulk packaging such as leeks. Pallet netting is not suitable for products that are sensitive to pressure spots. Of course, the netting should be used in such a way that the product is not damaged. Use of strong pallet corners is essential to assure good stability of the complete pallet.
A plastic pallet cover with cardboard cover around it. Photo provided by N. Wols.
Pallet cover
The pallet cover is pulled over the load of a pallet. It protects the products from dirt and dust during storage and transport, and reduces moisture loss. Also, covers that are sealed to a bottom sheet are used to create a modified atmosphere (of O2 and CO2), for example for strawberries or berries. The cold chain may not be interrupted because the gas conditions can then change in such a way that product damage occurs in the form of, among other things, off-flavours
Mandarins are kept together for the purpose of buying complete boxes at retail. Photo by WUR
Clean and proper materials
A variety of materials can be found, depending on the supplier. In all cases, these materials must be clean and undamaged to protect product quality.
Attention! The foam netting around this papaya has slipped off and is not protecting the entire fruit anymore. Photo by WUR
Correct use of foam nets
When foam nets are being used they should look clean and cover the fruit well. The foam net sometimes easily slides off. Careful handling can prevent this.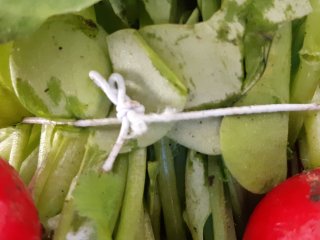 Attention! Tight binding led to some damage at these radish leaves. Photo by WUR.
Products in bunches
Products such as bunched carrots or bunched radish are hold together by a string or rubber band. Bunching ties should not be too tight. This can lead to crushed or split stalks.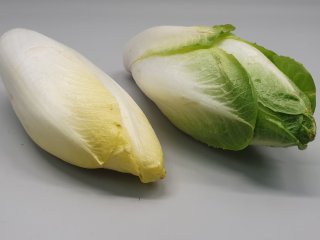 Discoloration (greening) of chicory upon light. Photo by WUR.
Protection from light
For some specific products, the packaging must protect from light. Otherwise discoloration may occur. Well-known examples are: pink discoloration of asparagus, green discoloration of potatoes and green discoloration of chicory. Special attention is especially needed for the top layers of these products.
Other packaging in practice