Ensuring personal safety
Storage and packhouse facilities are dynamic environments with various risks. Examples are trucks, forklifts and risks of slipping. Sometimes the packhouse is equipped with Controlled Atmosphere (CA) storage rooms with low oxygen. Exposure to low oxygen is one of the greatest dangers for persons. Remember that your safety is not only important for you. Also think about your family, your colleagues, and your organization. Always ask and follow the safety guidelines of your work location. In addition, pay close attention to the risks in your work environment. Look around and ask yourself what could go wrong?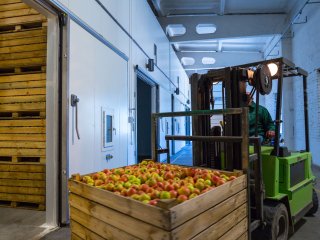 Forklift riding in apple storage facility. Photo by Sodel Vladyslav/Shutterstock.com
Safety at companies in the fresh chain
Companies dealing with fresh produce have very busy periods, especially when the harvest comes in and during sorting and packing. Forklift traffic is then one of the great dangers. When an accident with a forklift happens, the consequences are usually very serious. But also between the busy periods there are risks that you have to be aware off. Confined spaces, especially storage rooms, pose a danger due to abnormal air conditions. It is very important to always respect the safety guidelines of the location. On this page we describe a number of general safety measures, but we can never be complete. Therefore, in addition to this information, always inform yourself about local safety regulations and individual company policies.
Dangers at confined spaces
View on ethylene ripening rooms. Photo by ASP-media/Shutterstock.com

Storage and ripening rooms

By confined spaces we mean spaces with limited means of entry or exit and not designed for continuous human presence. Examples are storage rooms and ripening rooms. Different air conditions can accumulate in confined space. For example, the accumulation of carbon dioxide in rooms with limited ventilation can lead to symptoms such as headache, dizziness, fatigue or worse. The work location must comply with health and safety legislation. Respect these for your own safety.

Top hatch in CA storage with ultra low oxygen conditions. Photo by WFBR

Controlled Atmosphere

Air conditions can also intentionally be changed. This is the case for Controlled Atmosphere (CA) storage rooms with fruit stored under low oxygen. These are often combined with increased carbon dioxide. These environments are extremely dangerous! Even a very short exposure to CA conditions can lead to brain damage or death! These rooms are subject to strict security measures. One of the rules is that you should never enter these rooms.

Safety lights indicating whether a room is safe to enter or not. Photo by WFBR

Regular air storage room

Regular air (RA) fruit storage rooms can also be unsafe to enter. The build-up of a few % carbon dioxide, which is produced by the fruit, can already lead to dangerous levels for humans. Do not open doors if you do not know what air composition is behind it!

Storage room with apples and open door. Photo by Dusan Petkovic/Shutterstock.com

Leave the door open

Professional cold rooms are equipped with safety features that allow an escape, should you be locked up. As a precaution, it is much better not be locked in a room. When you enter a storage room, leave the door open. You can block the door or clearly indicate that the door must not be closed.
Dangers with traffic
Hall with forklift traffic. Photo by WFBR

Stay alert on traffic at your workplace

Keep a close eye on the traffic at and around your workplace. Depending on your work place, these can include trucks, tractors and forklifts. Especially during busy periods there is higher risk of accidents. Although the employer must ensure sufficient safety measures, the employee must always remain alert to prevent accidents.

Dangerous situation with forklift. Photo by WFBR

Keep in mind forklift drivers may not see you

Workers are killed or seriously injured in forklift-related incidents. Imagine the effect of hitting or running over a pedestrian. Keep always in mind that the drivers may not see you. This is especially the case at hallway corners and high traffic areas. Be aware of reversing forklifts and sudden shifts in their direction.

Unsafe use of forklift. Photo by WFBR

More safety tips on forklifts

Some additional safety tips regarding forklifts, although not complete, are: do not accept rides on forklifts, either on the forks or on a pallet. Also, no one should ever stand on the forks of the forklift and be elevated. Never walk under raised forks. Stay alert for falling loads.

Floor markings. Picture by Dilen/Shutterstock.com

Pay attention to floor marking

The floors of your facility are possibly marked with highly visible floor marking tape or paint. These are especially important for safety in facilities that use forklifts. But they can also protect you from dangers that are not easily visible at first glance. Examples include stumbling or slipping hazards and moving machine parts. Therefore, stick to the designated pedestrian paths.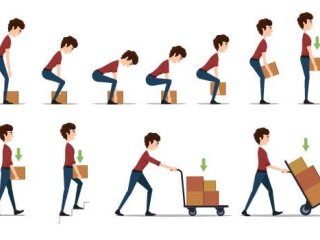 Infographic with liftind and handling instruction. Picture by K3Star/Shutterstock.com
Lifting and handling
The right method for lifting and handling loads can help prevent injuries and prevent back pain. Some tips are: adopt a stable standing position, ensure a good grip on the load, use your legs to lift, keep the load close to the body. Above all, know your limits! Just walk an extra time if items to carry are too much at once. For example, use a cart if the items to be transported are too heavy. Get yourself well informed in more detail about safe lifting and handling methods.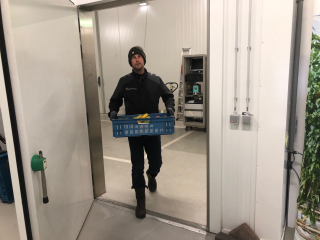 Wear protective clothing when required. Photo by WFBR
Protective clothing
Rules on protective clothing may apply to your workplace. It depends on your job. Especially in dark areas with (forklift) traffic, it may be a requirement to wear a high visibility safety vest or jacket. Closed toe shoes or, even better, safety shoes protect your feet. Protective gloves can prevent injuries to fingers. Although not always comfortable, it is for you own safety. Warm clothing should be worn in cold environments.
Did you know that?
The colour of floor marking lines often indicates the kind of hazard.

Yellow is typically used for safe aisleways. Yellow and black indicate physical or health hazards.

A rubber mat or wooden plank in a cold environment makes you feel less cold

When you need to work in a cold environment for a long time, you can make it more comfortable by placing a rubber mat or wooden plank to stand on.