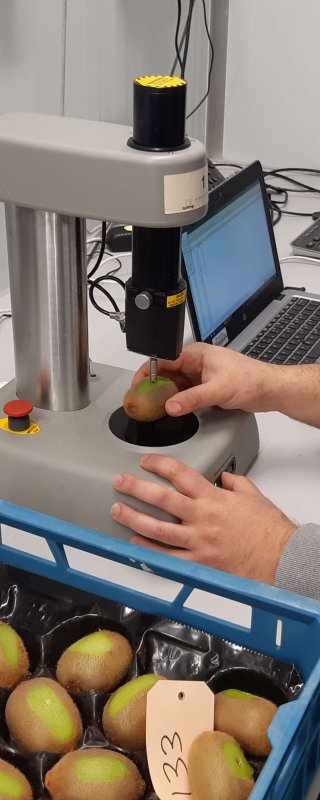 Doing quality measurements
Extensive quality evaluations are carried out at various points in the fruit and vegetable chain. Different markets require different quality criteria. Examples of these quality criteria are a specific colour, size, firmness and sugar content. Quality can be measured non-destructively (by looking, feeling, sizing, smelling) or destructively (by cutting, tasting, grinding). Quality measurements include both external and internal properties. External quality measurements are usually focused on size and shape, colour, physiological disorders and diseases. Examples of internal quality measurements are firmness, sugar content, acidity, flavour, and disorders and diseases.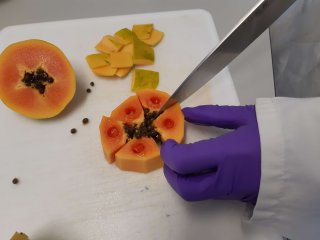 Example of destructive quality measurement. Photo by WUR
Destructive quality measurements
Different methods for analyses of fruit and vegetable quality exists. Well-known measurement methods are measurement of soluble solids content (SSC) after juicing and measurement of firmness with a penetrometer. These methods are easy to perform under the condition that the right protocol is followed.
Unfortunately these mentioned methods are destructive for the fresh product. Consequently only a sample of produce can be measured. It is therefore very important that the sample is representative of the whole batch.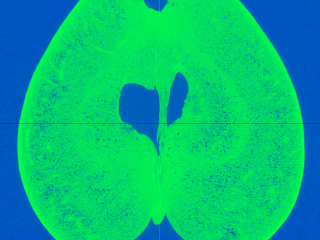 XRT image of an apple. Photo by WUR
Non-destructive quality measurements
Non-destructive quality measurements of fruit and vegetables can be helpful to measure external and internal properties. It has the great advantage over destructive measurements that products can still be sold after inspection. In this way, it facilitates the grading of products based on their size, shape, maturity or ripeness.
Among the techniques used are vision systems and near infrared spectroscopy (NIR). In addition to NIR devices in sorting lines, several hand-held NIR devices are available. Handheld devices can also be used in the field to measure fruit maturity. A very interesting development is NIR hyperspectral imaging which provides spectral data as a set of images.
At least 15 apples should be used in a sample. Photo by WUR
Sample preparation
Sample preparation deserves close attention. Let's take a firmness measurement of apple as an example. For a representative sample of the total lot, at least 15 apples must be used. When using a penetrometer, the skin must be peeled. For bicolour apples, the most red and most green part may be sampled, at the equatorial region of the apple. One should try to avoid influences of fruit size, and use only undamaged and healthy fruit. Also the fruit temperature can affect the firmness reading. Fruit batches should be at the same (room) temperature for fair comparisons.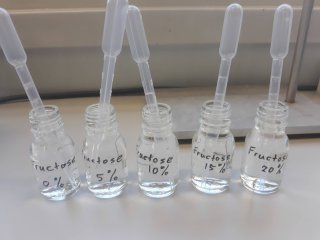 Calibrated equipment for measuring the soluble solids content. Photo by WUR
Equipment preparation
You must be able to rely on the equipment. Verification of the calibration can indicate if measurements are still reliable. A digital refractometer, for example, can easily be checked on its zero setting by measuring with clean water. However, the equipment should also be reliable for the soluble solids content (SSC) that is to be expected in the produce. It is therefore recommended to measure regularly a calibration sequence of known solutions of sucrose, for example 5%, 10%, 15% and 20%. Be aware that temperature of samples and of equipment may affect the readings. Inquire yourself about the calibration procedures of the equipment used.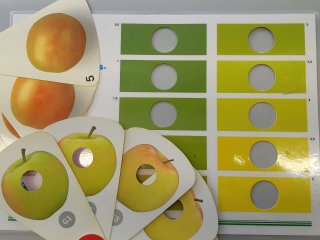 A colour chart is used to determine the colour of a product objectively. Photo by WUR
Colour measurements
Some market criteria rely on the base colour and/or blush colour of the fruit. The green base colour is due to the presence of chlorophyll pigments in the skin of the fruit. For some fruit, for example bicolour apples, the red (blush) colour development is important. Also the internal flesh colour can be important for certain traits. Usually a grading colour chart is available to precisely describe which colour is accepted by the market. Colour charts can be used in the field or packhouse to determine if the product has reached the desired colour stage. Strawberry is an example of a fruit where colour at harvest is an important maturity indicator, also because strawberry do not ripen further after harvest. Fruit colour measurement instruments are used in automatic colour grading.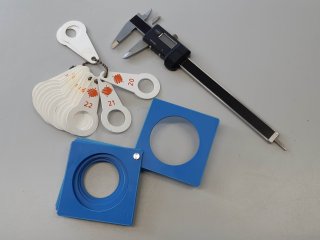 Different tools can be used to measure the size of a product. Photo by WUR
Size and shape measurements
Size and shape, and especially uniformity in size and shape, are important quality properties of the appearance of the fresh product. Manual sizing can be done using vernier caliper or sizing rings. Sizing in sorting lines can be based on different techniques, for example using diverging rollers. Computer vision systems can examine multiple views of each fruit as they travel on a conveyor belt. Thus they can provide measures of size, shape and colour, and detect external damages.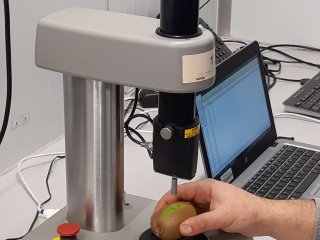 Use of a penetrometer to determine the firmness of the fruit. Photo by WUR
Firmness measurements
The penetrometer, either handheld or as an automatic device, is a common method to measure the firmness of fruit. This is a destructive technique. The measured firmness is the maximum force needed when penetrating a probe into the fruit to a standard depth. This gives an indication of the human perception of firmness. Firmness is also an important measure for fruit ripeness stage. The advantage of an automatic penetrometer (such as the 'FTA') above handheld penetrometers is that the test is conducted at standard depth and speed of penetration, ensuring more accurate and repeatable results. The firmness is usually expressed in kg/cm2 (11 mm probe) or kg/0.5cm2 (8 mm probe). Non-destructive measurements that correlate with firmness for some fruit use limited compression, an acoustic device, or are based on near infrared spectroscopy (NIR).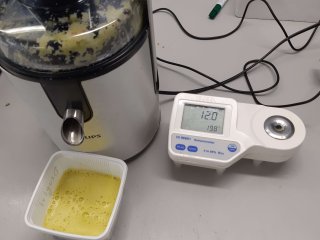 The measurement of soluble solids content is a destructive measurement. Photo by WUR
Measure Soluble Solids Content
The soluble solids content (SSC) can be an indicator of harvest time and market value. SSC is also referred to degrees Brix (°Brix) or as % sugars. The SSC of a product sample is measured with a refractometer after juicing and expressed in °Brix. The SSC consists mainly of sugars and therefore the °Brix gives a good estimate for % sugar. Although the SSC mainly consists out of sugars, other soluble solids are also present in minor concentrations. Examples are organic acids and soluble amino acids. Portable refractometers are available with analog or digital display. Near infrared spectroscopy (NIR) is increasingly used to estimate the sugar content non-destructively.
Apples dipped in lugol to measure the starch content. Photo by WUR
Measuring starch
The level of starch degradation is used as maturity index for apples and pears. As these fruit ripen, the starch is converted to sugar. This can be made visible by the 'Lugol test'. When an iodine solution (Lugol's solution) is applied on the equatorial cut of the fruit, the zones where starch is still present turn blue/black. Zones where the starch is converted into sugars show no colour change. The stages of this reaction, which takes place gradually, can be identified using a starch index chart. In Europe often a 10-points chart is used. The higher the index, the riper the fruit.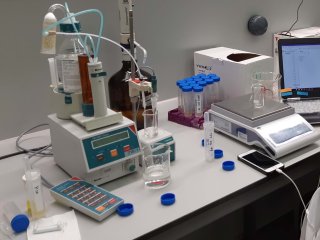 Setup to measure titratable acidity. Photo by WUR
Titratable acid measurements
Titratable acidity and especially the sugar/acid ratio contributes to giving many fruits their characteristics flavour. Therefore, titratable acidity is one of the indicators of commercial and organoleptic ripeness. Titratable acidity is also called total acidity. The determination of the titratable acidity of fresh fruit and vegetables is usually realized by (automatic) titrating a sample of product juice with a standard alkali solution to a certain pH endpoint. The volume of titrant used, along with the normality of the base and the volume of sample, is used to calculate the titratable acidity, expressed in terms of the predominant organic acid. Also pocket fruit acidity meters are on the market, using a electroconductivity method.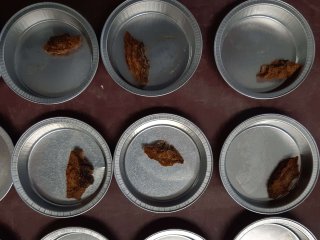 Drying samples in the oven as part of the %dry matter content determination. Photo by WUR
Measure the % dry matter
Determining the right harvest moment for avocados is amongst others based on the percentage dry matter. Dry matter is correlated with oil content and consumer preference. The best % dry matter depends on variety and intended market, an example is a minimum of 23%. Dry matter can be determined by measuring the weight of fresh avocado sample, subsequent drying (oven), and measuring the weight of the dried sample. The % dry matter = weight of dried sample divided by weight of fresh sample, multiplied by 100. Also NIR spectroscopy is being used to estimate dry matter content.
Tasting of fresh products by a trained panel is the best way to determine sensory quality. Photo by WUR
Measuring the sensory quality
Sensory quality is crucial for consumer satisfaction and (repeated) purchase. In addition to appearance, important sensory properties are texture (firmness, juiciness, mealiness etc.) and flavour (taste and aroma or odor). Of course, anyone involved in the fresh fruit supply chain should occasionally take a bite of the product they are working with. For the best conclusion, sensory testing should be conducted by a group of trained people: the sensory panel.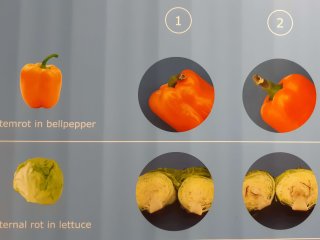 Two examples of how disorders may appear in fresh products. Photo by WUR
Determining disorders and diseases
A good quality analysis of fresh produce includes both external and internal assessments. It is indeed important to cut products and look for possible defects inside. Books, posters, and online sources with photos and symptom descriptions can serve as a reference to identify the defect found, and also the cause and possible actions for future prevention. In some cases, an additional analysis is needed. This may be an analyses of mineral concentrations in the case of a physiologicial disorder. Or a further identification of the fungal pathogen species that caused the disease.
How to measure fruit firmness with an analogue penetrometer mounted on a drill stand
Choose the right probe size. Photo from WUR

Step 1: Choose the right probe

Diameter 8 mm is commonly used for pear, plum and kiwi. Diameter 11 mm is commonly used for apple.

Peel the skin before the measurement. Photo from WUR

Step 2: Peel the skin

The skin should be peeled off such that a skinless area larger than the diameter of the probe is created.

Hold the fruit under the probe. Photo from WUR

Step 3: Stabilise the fruit

Hold the fruit stably on a hard surface under the probe.

Apply a constant force. Photo from WUR

Step 4: Apply a constant force

A constant equal force shall be applied. Make sure that you do not go too fast or too slow. Doing a proper measurement takes practice.

The probe should enter the fruit until the marking. Photo from WUR

Step 5: Penetrate deep enough

The probe must penetrate the fruit until the circular line on the probe is reached. Not too shallow, not too deep.