Quality assessment of fresh produce
Our specialists support you in specific quality assessments. Because they are a researcher of WUR, they can connect their practical experience to the existing theoretical knowledge base.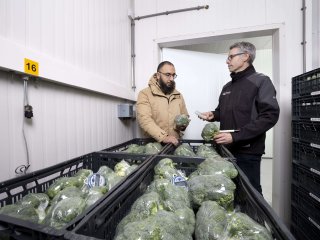 Quality assessment. Photo by WUR
Quality assessment by WUR
We assess the most important and relevant quality aspects and we give advice on the method of observation (product specific). Furthermore, the experts are available to objectify the quality observations while they share their expertise for the specific product for the specific (storage) season.
Part of the quality assessment can be:
Introduction of new measurement methods
Introduction of new assessment methods (e.g. weak neck scores for pears)
Offer knowledge on which quality criteria should be assessed in what way and why
Translate quality assessment into concrete actions for improvement: how to prevent this from happening again?
Understand how you are doing with respect to the rest of the market; we see a lot, know the current situation, and can serve as a reference.
Interested? Contact one of our experts below!