Josianne Cloutier
Researcher/project leader Postharvest Management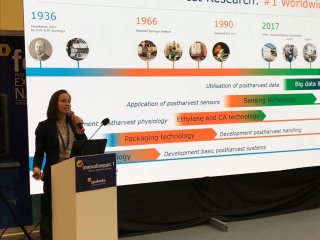 Josianne's expertise
Josianne works at WFBR in the Postharvest Technology group since 2019. Before that, she has worked in several fields of the agricultural sector: agricultural advisor, biological control advisor, greenhouse manager, teacher in an International Agribusiness and business administration with horticulture specialisation.
She combines all these expertises in national and international projects in order to improve postharvest handling processes and reduce postharvest losses. Focus is on sustainability while being socio-economically achievable.
Josianne is fluent in English, French and Dutch. Some examples of projects she leads are:

- Development of Standard Operational Procedures in Benin for the postharvest handling of mango, pineapple, papaya, leavy vegetables and green hot pepper.

- Energy efficient cold chain for the agro-industrial system in Argentina.