Refrigerated transport
Refrigerated transport is an important link in fresh supply chains. The topic covers maritime transport and road transport. Maritime transport is performed with reefer containers, road transport ranges from semi-trailer to minivan. Although the purpose is the same: transporting the fresh products with minimum quality loss, the transportation method requires different background knowledge.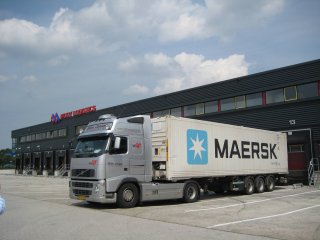 Refrigerated transport vs. refrigerated storage
Refrigerated transport has a lot of analogies with refrigerated storage, but also a distinct difference: movement from A to B.
This movement has multiple consequences:
First: space and weight limitations to the climatization equipment, as one is paid to carry goods, and not the climatization installation, from A to B.
Second: versatility in application domain. After moving e.g. pears at -1.0 °C from A to B, it is effective to move a new cargo from B to C and that may e.g. be frozen fish at -22 °C.
Third: uncertainty about ambient conditions. When building a storage facility in location X meant to operate in only 6 months of the year the expected range of ambient conditions can be in a pretty narrow band. Transport equipment moving from A to B to C to wherever at any time of the year should be prepared for a much broader ambient conditions.
This means that the moving refrigeration system needs our special attention. For example, the diversity of cargos and ambient conditions results in a diversity of frost loads to the evaporator making defrost control in transport more challenging than in storage, and making the need for good automatic defrost control more pressing.
Reefer containers in a port. Photo by WUR
Reefer transport
Seagoing reefer containers are designed to maintain set temperatures between -30 and +30 °C in virtually all ambient conditions. This means that they are equipped with enough cooling and heating capacity. Because sea transport tends to take multiple weeks, it sometimes pays off to control more than only temperature. That is why in reefer containers, additional features are commonly available, such as selectable fresh air exchange, dehumidification and controlled atmosphere.
Refrigerated road transport vs. refrigerated sea transport
Although both refrigerated road transport and refrigerated sea transport of fresh products requires a moveable refrigeration unit, there are important differences in the characteristics of both forms of refrigerated transport. The table below lists the most important ones.
| Characteristic | Road equipment | Reefer container |
| --- | --- | --- |
| Dimensions | From semi-trailer till minivan | 40 ft, sometimes 20 ft |
| # Pallet positions | 26 (in semi-trailer) | 20 |
| Internal width | up to 2.50 m | 2.29 m |
| # Times that door opens during transport | In delivery transport up to every 30 minutes | Usually none |
| Multi-temp available | Around 20% of trucks and semi-trailers | None |
| Typical trip duration | < 1 day | > 2 weeks |
| Power supply | Diesel, semi-trailers may be self supprting | Electric, dependent on external power source |
| Fresh air exchange facility | Usually none | Yes, fixed m3/h setting or CO2 based |
| Humidity control? | No | Yes (dehumidification) |
| Controlled atmosphere (O2, CO2) | No | Yes, in part of the reefers |
| Certification for cooling/insulation | ATP | None |
| Air delivery | Top | Bottom |
| Air ducts | Optional | Standard |
Unfortunately, your cookie settings do not allow the social media element to be displayed. check your settings.