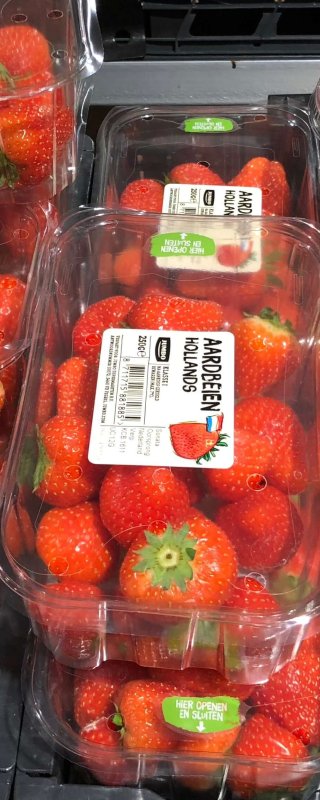 Retail practices for strawberry
Improved retail practices can lead to a higher quality of fresh fruit and vegetables and improve customer satisfaction. For the highest freshness of strawberries on the shelf and to minimize waste, 'first-in first-out' management may be the best strategy. However, quality inspections may lead to other decisions. The staff must be well trained in handling the different types of fresh produce. They must realize that fresh products are very susceptible to handling damage and to unfavourable conditions such as too low or too high temperature.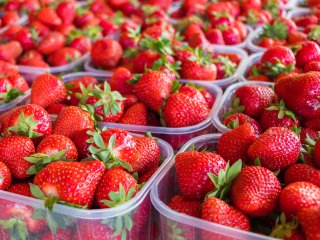 Strawberries should always look fresh. Photo by Andrej Privizer/Shutterstock.com
High quality strawberries
Strawberries are in many countries available year-round, partly covered by imports. But often there is a clear peak season. Strawberries should always look fresh, be sound and clean. The fruit condition in the store must be sufficient to ultimately arrive at the consumer's home in satisfactory condition. Because the shelf-life of strawberries is short, following best practices is essential. So keep them refrigerated, and remove packages with diseased and overripe fruits. Very careful handling is essential to maintaining quality.
Attention points for strawberries at retail
Damaged strawberries will not do. Photo by WFBR

Quality standards

Fresh strawberries must comply with specific requirements to be allowed on the market. The produce must comply with legislation to avoid health and environmental risks, and meet quality standards. Quality standards include regulations such as minimum fruit quality, size, packaging and labelling requirements. Strawberries must meet at least with the general minimum requirements, such as being intact and free from rotting. Additional requirements apply to Class Extra, Class I and Class II.

Different varieties of strawberries exist and can be sold next to each other. Photo by WFBR

Varieties

There are several varieties of strawberry. Each variety has its own characteristics such as colour, flavor, texture, visibility of seed, and characteristics of the green calyx. The availability of a variety can vary throughout the year, depending on the growing season in the country of origin.

Quality inspection upon receipt. Photo by WFBR

Quality inspection

To be sure of a good quality product to display, quality inspection upon receipt is very important. Strawberries may have disorders that may have occurred during previous parts of the supply chain. Improper post-harvest handling may have caused mechanical damage. Apart from that, strawberries can face quality issues related to ripeness stage (overripe), rots, or presence of soil parts.

Strawberry of good eating quality. Photo by Sha15700/Shutterstock.com

Ripeness

A bright red fruit colour usually indicates a strawberry of good eating quality. The calyx should be green and healthy as an indicator of freshness. Dark red (dull) and soft fruits may be overripe. Excessive water loss can lead to wilted and dull fruit.

Strawberries are displayed in a refrigeration unit in the supermarket. Photo by WFBR

Display

Strawberries require a low temperature during display to extend shelf-life. Keep them refrigerated unless immediate sale is expected. Strawberries should be stored as cold as possible, but without freezing. Strawberries are usually packed in (closed) plastic punnets (clamshells).

Strawberries with damage or fungal infections should be removed. Photo by WFBR

Handling and quality

Strawberries are delicate products and easily bruised if handled too roughly. Check the displays regularly throughout the day. To prevent disappointed customers, remove overripe, shrivelled, damaged and diseased product from the display.