Transport practices for peppers
Transport of fresh products generally takes place in (refrigerated) trucks, reefer containers, or by plane. Checks and proper loading are always important to maintain good (temperature) conditions for the product during transport. For fresh products like peppers, refrigerated transport is often necessary. Trucks and reefers can maintain a low temperature, but do not have enough cooling capacity to lower the product temperature. Therefore, products must be pre-cooled before entering the refrigerated truck or reefer. During transport and waiting periods, the load must be well covered to protect against dust, sun and rain. Careful driving and handling are essential to prevent damage to produce from mechanical actions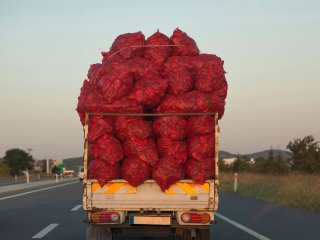 Overloaded pick up truck with red sweet peppers. Photo by lucky eyes/shutterstock.com
Optimal transport conditions
Transport of peppers from the field or the greenhouse to the packhouse should follow soon after harvest because it is essential that peppers, especially for overseas shipment, are cooled as soon as possible. After cooling in the packhouse, they can be transported further in (CA) refrigerated trucks or reefer containers. The best transport conditions for peppers depends on variety, maturity and transport time. For bell peppers concentrations of O2 and CO2 ranging between 2-5% with a temperature between 7-10 °C are often used. For hot peppers, concentrations of O2 and CO2 between 3-5% and 5-10% respectively, with a temperature between 5-10 °C. The optimum relative humidity ranges between 85-95% for hot peppers and 95-98% for sweet peppers.
Attention points during loading and transport of peppers
Loading of bell peppers in truck on the field. Photo by BearFotos/Shutterstock.com

Loading at the field or greenhouse

Upon pick-up, the crates or other packaging must be stacked carefully and tightened to ensure they do not shift or fall-over during transport. In the case of larger trucks and loads that do not fully occupy the truck floor, the tightening must be done by placing (pallet-)edge protectors at the edges of a batch of stacked field crates. Especially for warm loads (picked up at harvest), air ventilation through the stacks should be warranted.

Example of a cold dock. Photo by WUR.

Loading after pre-cooling

The loading must be realized preferably from a climate-controlled loading dock via "cold tunnels" into the truck or reefer. These "cold tunnels" prevent entrance of the ambient air into the pre-space while avoiding condensation that would have occur from the warm entering air onto the cold pepper surface. If the cold chain cannot be maintained, it could be valuable to evaluate the proper moment of pre-cooling.

Do not stow above the red line in a reefer container. Photo by WUR

Stacking of refrigerated truck and reefer

In reefer containers, with bottom-air delivery system, the cargo must be stacked as a solid block with only little space between the cartons and the reefer container wall to avoid short–cycle airflow. Assure that the carboard boxes are suitable for reefer and truck transport. This means that they should have holes in the bottom to facilitate the reefer air flow. Holes in the sides are needed for air flow in the truck. Also do not stow above the red line at the reefer wall. Do not use wraps or anything else that is detrimental to good airflow.

Sturdy boxes with holes in the sides, suitable for truck transport. Photo by WUR

Type of boxes

Assure that the carboard boxes with peppers are suitable for reefer transport. This means that they should have holes in the bottom to facilitate the reefer air flow. For truck transport the boxes need holes in the sides. (Most boxes are suitable for both transport systems)

Temperature logging is key to check for maintaining an unbroken cold chain. Photo by WUR

Temperature logging

The cold chain should not be broken, the product remains best in the set temperature range, which depends on variety and maturity. Lower or higher temperatures can easily lead to loss of quality. For example, cooled peppers that are warmed up during a broken cold chain, can become wet from the condensation on the skin. This will increase their susceptibility to fungal decay. Good quality control during transport includes temperature logging.

Example of a pallet with boxes peppers showing boxes that are not correctly stacked. It is advised to make pictures upon arrival of these types of problems. Photo by Baloncici/Shutterstock.com

Unloading

Unload the cargo carefully to avoid handling damage. The pallets (or other packaging) with peppers must be moved directly to a cold storage room. It is recommended to sample fruits for inspection at this moment. Visual appearance of peppers, but also of packaging and pallets can be documented via photographs. Temperature loggers are retrieved at unloading and data processed. A quality inspection report is made when produce is imported from overseas. Based on this report the load will be accepted, refused or accepted under conditions.