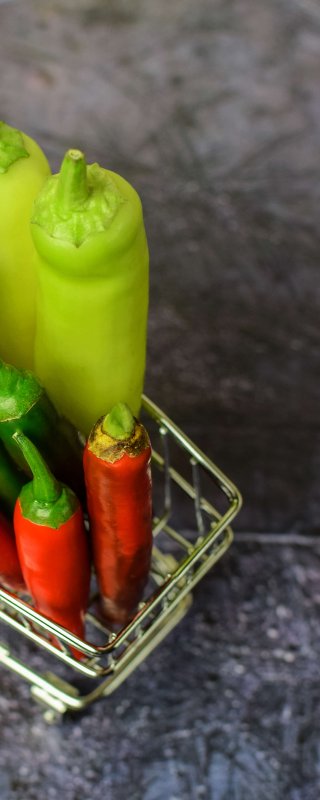 Retail practices for pepper
Improved retail practices can lead to a higher quality of fresh fruit and vegetables like peppers and improve customer satisfaction. For the highest freshness on the shelf and to minimize waste, 'first-in first-out' management may be the best strategy. However, quality inspections may lead to other decisions. The staff must be well trained in handling the different types of fresh produce. They must realize that fresh products are very susceptible to handling damage and to unfavorable conditions such improper temperature and relative humidity.
Sweet peppers in the supermarket. Photo by siamionau pavel/Shutterstock.com
Convenient and tasty peppers
Peppers are officially a vegetable, but are more often classified as a fruit. This 'fruit vegetable' has convenience and taste as important drivers for consumption. There are many types of peppers, such as bell pepper, elongated sweet pepper and hot pepper. Preferences vary per country and consumer groups. Sweet peppers (bell or elongated) are generally eaten mature when the flesh is crispy. Taste and quality are determining factors for purchasing. Peppers are preferred when uniform without signs of shriveling. Retailers have an important responsibility as part of the pepper supply chain to offer good quality peppers to consumers. Consumers will only re-purchase peppers when appearance and flavour are appreciated.
Attention points in the shop
High quality peppers. Photo by WUR

Quality standards

Peppers must comply with specific requirements to be allowed on the market. The produce must comply with legislation to avoid health and environmental risks, and meet quality standards. Quality standards include regulations such as minimum fruit quality, packaging and labelling requirements. Peppers must meet at least with the general minimum requirements, such as being intact and free from rotting. Additional requirements apply to Class Extra, Class I and Class II.

Different types of peppers. Photo by N. Mitchell/Shutterstock.com

Varieties

There are three broad categories of peppers. The sweet bell pepper, the elongated sweet pepper and the hot peppers. Each categories knows several varieties of peppers of different colours and shapes. The most common colours of bell peppers are green, yellow, orange, red and purple. The most common colour for the sweet elongated pepper is red. The hot peppers are classified according to their level of pungency based on the amount of capsaicinoids and Scoville Heat Unit (SHU). SHU is defined per unit of dry matter and varies between 0 and 3 millions.

Quality inspection of peppers. Photo by WUR.

Quality inspection

To be sure of a good quality product to display, inspection upon receipt is important. Disorders may have occurred during previous parts of the supply chain. Improper post-harvest handling may have caused mechanical damages, while wrong temperature and time management may have caused symptoms of senenescence. Pepper coloration varies with the ripeness of the fruit. However, sun damage can lead to a light colour on the pepper. Other disorders and diseases can lead to quality disfunction. Each retail organization may have its specific quality demands and these demands should be clear to the supplier. Also the way the retailer performs its quality assessment must be clearly stated to avoid as much as possible misinterpretation of norms and rejects.


Peppers may be displayed packed or loose in the supermarket. Photo by Vera Petrunina/Shutterstock.com

Display

Peppers can be displayed on shelves loose or packed in a macro-perforated packaging reducing water loss. Usually they are displayed at ambient temperature. During non-business hours, products can be taken from the shelf and placed in a refrigerated room above the indicated minimum temperature. A proper display, clean and orderly, contributes to maintaining the quality of peppers. Fruits with signs of dehydration, decay or mould should be discarded.

Peppers should be handled with care. Photo by suthas ongsiri/Shutterstock.com

Handling and quality

Peppers must be handled carefully to avoid damage. They should not be dropped or thrown. In addition to cosmetic damages on the external, internal bruising and flesh breakdown can also occur. Never empty a box by holding it upside down. Instead, take the peppers one by one and by hand. To prevent disappointed customers, remove overripe, damaged and diseased peppers from the display.
Tips for retail to maintain fresh shelf
Regular quality inspection

Perform regular quality inspections on your peppers

Time management

Create a regular supply of fresh produce.

Management of relative humidity

Make sure produce is protected from moisture loss by covering the fruit and/or use a misting system.