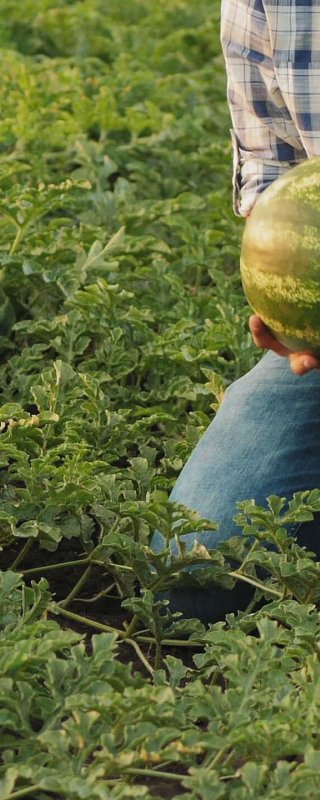 Harvest practices for melon
Proper harvest of melon is an essential start to being successful in the rest of the supply chain. The performance of the pickers is therefore critical to deliver a good quality product. First of all, picking at the right maturity is important to develop a satisfactory final eating quality. Picking and further handling must be done carefully to avoid bruising and other damage to the product. The use of clean and suitable materials such as harvest crates also serves this purpose.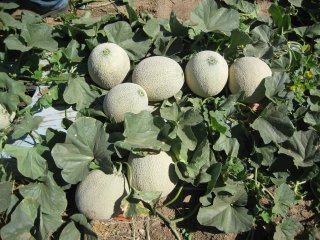 Melons in the field. Photo by WUR.
Harvest of melons
Melons are harvested at a stage where the ripening process has started already. They should have a sufficiently high sugar content at harvest, as sugar will not increase after harvest. So they should not be harvested too early. However if you wait too long, they will get overripe before reaching the consumer. Determining the right harvest moment is therefore important for the eating quality and marketability of the melons. Good training, instruction and monitoring of individual pickers can ensure a good starting quality. Another important point of attention for the melon harvest is carefull handling.
Attention points for harvest of melons
Skin and flesh colour of melon are maturity indicators of melons. Photo by WUR

Harvest maturity

To provide sufficient shelf-life, melons are harvested at a partially mature stage. Total soluble solids is an important indicator of harvest maturity. For certain melon types (cantaloupe) the formation of the abscission layer between fruit and plant (also called 'slip') is an important indicator. At three quarter to full slip, the fruit can be easily separated from the stem with light pressure. Depending on cultivar, further maturity indicators are skin and flesh colour, skin feel, firmness, and netting structure on the skin.

A field with melons. Photo by WUR

Harvest frequency

The harvesters only harvest the melons which have reached the appropriate maturity. The other melons are left for next harvest rounds through the field. Regular harvests are required to limit variability in individual fruit maturity. Melons are preferably harvested in the coolest part of the day (in the morning). In this way, the cooler fruit temperatures will facilitate fast cooling to the optimum temperature in the packhouse.

Melon harvested by hand in the field. Photo by WUR

Harvest method

Melons are harvested by hand. The exact harvest method can vary per variety. Some varieties (cantaloupes) can be removed from the plant by breaking at the abscission zone between fruit and plant ('slipping') without the use of any harvesting tool. Another method is to cut the melons (honeydew, watermelon) from the vine with a sharp knife or clipper. Because melons have a high weight, the skin is vulnerable for damage when the fruit is dropped.

Harvested melons placed in bins in the field. Photo by WUR

Placing in bins

Carefully place the melons in harvest bins. Field bins range from small portable bins to pallet-sized bins. Crates should not be overfilled: when stacking, the crates should not touch the fruit in the crate beneath. The field crates must stay in a shaded covered place until transport to prevent heating. After harvest, melons are moved to the packhouse for cooling and packing. Packing can also take place directly in the field, using harvesting rigs with conveyor belt and packing tables.

Diseased melon. Photo by Pawel Beres/Shutterstock.com

Diseased and damaged fruit

Diseased or damaged fruit should not end up in the lots intended for high-end market segments. Melons that are suitable for export are at least firm, free from decay and free from damage such as cracks and bruises. A preliminary sorting in the field could be carried out by placing under-/overripe and damaged fruit in separate crates. Infected and discarded fruits should be removed from the field to reduce the infection of sound melons with postharvest pathogens.

For harvest of melons good, clean materials are needed. Photo by WUR

Materials

The availability of good, clean and sufficient materials will facilitate harvest and product quality will benefit. Ensure that harvesting materials are sanitised before use. When clippers are used, they should have sharp blades. Field crates should be clean, stackable and intact without sharp edges.