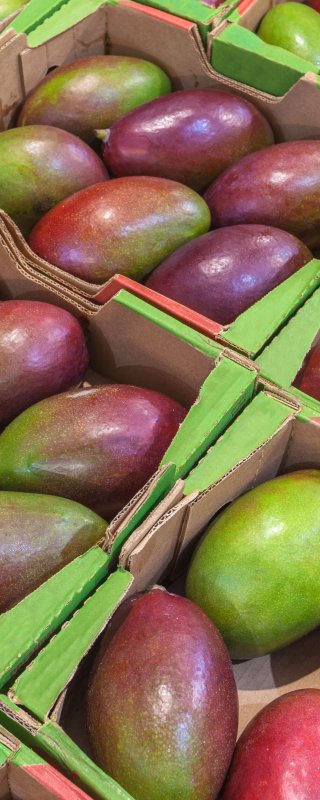 Mango quality
Quality of mango is defined by several quality attributes. The most important are appearance, colour, texture and flavour. Appearance and colour are examples of quality attributes judged on the outside, whereas texture and flavor are internal quality parameters. The quality attributes are influenced by variety, pre-harvest factors, harvest practices and post-harvest handling. Determination of fruit quality provides an important indication of the remaining storage potential and shelf-life.
Photo by Valentyn Volkov/Shutterstock.com
Quality attributes of mango
Mango is one of the most popular fruit and often also rated as one of the tastiest. A basis for this is the correct maturity at harvest, which can be assessed by internal color, firmness, and sugar content. The maturity of the mangos at harvest must be such that they can continue the ripening process and achieve the satisfactory degree of ripeness for the final consumer. In the meantime, diseases and disorders must be prevented as much as possible. The changes in colour and flesh texture during ripening can vary depending on the variety. But for all varieties, the minimum requirements for mangoes of good quality are: intact, sound, clean, fresh in appearance, free of any foreign smell and/or taste, and free from damage caused by low temperature.
Attention points mango quality
A mango with a red skin. Photo by WFBR

General appearance

Each mango variety has his own visual characteristics such as fruit size, shape, blush colour and flesh colour. Of course, these can differ between individual fruits. In all cases, the consumer will demand fresh-looking and appealing mangos.

The mangoes are more attractive without defects such as insect damage, punctures, bruises, sapburn injury and especially decay.

Internal flesh colour of a mango is a good indicator of ripeness. Photo by WFBR.

Flesh colour

The flesh colour is a good indicator of fruit ripeness. The flesh colour develops near the seed and progresses outward. A decreasing proportion of white/green/pale-yellow, which turns yellow/orange, corresponds to a higher ripeness stage. Flesh colour can also indicate quality issues. For example, browning is undesirable and can indicate overripeness or be the consequence of unfavourable storage conditions such as stored too cold.

Close-up of mango flesh. Photo by Piyaset/Shutterstock.com

Flesh texture

Firmness, crunchiness, melting and juiciness all contribute to the consumer's final judgement. One of the most obvious texture changes during ripening is loss of firmness. A firmness test of the flesh can be done with a fruit penetrometer after a piece of skin has been peeled. The texture of mangos varies between cultivars. Some varieties are already quite soft before they are optimal to eat, but other varieties remain more firm. There are also variety differences in fibrous texture.

Different skin colours of mangos of one variety. Photo by WFBR

Skin colour

Mangos can have different skin colours. It will be affected by variety, ripeness stage and growing conditions such as intensity of sunlight. Therefore, the fruits can differ in red color (blush color) and (green) ground colour at harvest. Some varieties retaina green ground colour when ripe, but often fruit ripening is accompanied by a change from green to yellow. A gray or dull colour can be a symptom of chilling injury.

Tasty mango! Photo by Suvorova Alexandra/Shutterstock.com

Flavour

Flavour is, of course, an important characteristic of fruit quality. Important characteristics for the mango flavour are degree of firmness, aroma, sweetness, sourness, and the ratio between the latter two (sugar/acid level). The sugar content can be well estimated by measuring the soluble solids content (SSC, °Brix). As an indication, °Brix levels can range from 9 to 17, depending on the variety, origin and especially ripeness.

A box with bad quality mangos. Photo by WFBR

Disorders and diseases

A good quality mango is free of defects and diseases. Bruises or skin injuries reduce appearance, but also increase water loss (weight loss) and respiration, which can speed up firmness loss and senescence. Defects also provide access routes for pathogens that lead to decay. Disorders are not always visible from the outside. Cutting the fruit may reveal internal discoloration or flesh breakdown.
How to measure quality traits of a mango?
| Type of quality trait | Quality trait | Measurement method | Standard method? |
| --- | --- | --- | --- |
| Colour | Blush colour | A quality controller checks the blush colour with a colour chart | Yes |
| Colour | Flesh colour | A quality controller checks the flesh colour with a colour chart | Yes |
| Colour | Ground colour | A quality controller checks the ground colour with a colour chart | Yes |
| Defects | External diseases & disorders | A quality controller checks the outside of the mango visually on diseases & disorders | Yes |
| Defects | Internal diseases & disorders | A quality controller checks the inside of the mango visually on diseases & disorders | Yes |
| Molecular composition | Sugar content | The total soluble solids (TSS) is measured with an analog or digital refractometer | Yes |
| Shape & Size | Maturity | A quality controller estimates the maturity of the mango by looking at its shape | Yes |
| Shape & Size | Size | A quality controller estimates the size of the mango visually | Yes |
| Shape & Size | Weight | A quality controller weighs the mango on a scale | Yes |
| Texture | Firmness | The firmness of the mango is measured with a penetrometer | Yes |