Retail practices for lettuce
Improved retail practices can lead to a higher quality of whole lettuces and fresh-cut lettuce, and improve customer satisfaction. For the highest freshness on the shelf and to minimize waste, 'first-in first-out' management may be the best strategy. However, quality inspections may lead to other decisions. The staff must be well trained in handling the different types of fresh produce. They must realize that fresh products are very susceptible to handling damage and to unfavourable conditions such as too low or too high temperature.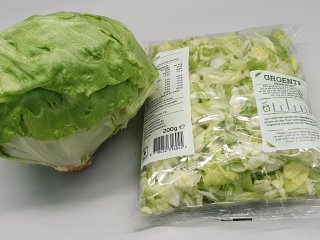 Whole and fresh-cut iceberg lettuce. Photo by WUR
Many different lettuce types
It is possible to define two categories of lettuce according to their shape when consumers purchase them, namely head lettuce and looseleaf lettuce. Some common types of head lettuce are: iceberg (or crisphead), butterhead and romaine lettuce. Some types of looseleaf lettuce are rucola, corn salad and baby leaves. Baby leaves are small young leaves, often marketed as a mixture of greens (salad mix). The salad mix can contain a range of different types and varieties with various leaf shapes and colour. Examples are red and green oak leaves, watercress and lamb's lettuce. They are often sold in bags under Modified Atmosphere (MA) and must be displayed refrigerated.
Attention points in the shop
A good quality lettuce to offer to consumers. Photo by Thunderstock/Shutterstock.com

Quality standards

Lettuces must comply with specific requirements to be allowed on the market. The production must comply with legislation to avoid health and environmental risks, and meet quality standards. Quality standards include regulations such as minimum product quality, maximum residual levels (MRL), packaging and labelling requirements. Lettuce must meet at least with the general minimum requirements, such as being intact, fresh in appearance, and turgescent. Additional requirements apply to Class Extra, Class I and Class II.

Quality inspection of lettuce. Photo by jack8/Shutterstock.com

Quality inspection

Disorders may have occurred during previous parts of the supply chain. Therefore, a quality inspection upon delivery is important to check whether the lettuce is suitable to sell to the consumer. Improper post-harvest handling may have caused mechanical damage, while wrong temperature and time management may have led to discoloration or decay. Parameters such as fresh and turgid appearance are also taken into account in quality inspections.


Misting of unpacked lettuce. Photo by WUR

Display conditions

Lettuce is best displayed on refrigerated shelves and should never be exposed to freezing temperatures. Protection against moisture loss is provided by plastic films or flow packs. For unpacked lettuce, misting can create a humid climate. The so-called "dry misting" is a technology in which very small water droplets humidify the air. It looks like fog. The humidity rises and it also provides a cooling effect.

Carefull handling keeps the product in better shape. Photo by BearFotos/Shutterstock.com

Handling and quality

Lettuce is fragile and should be handled with care. A proper display, clean and orderly, contributes to maintaining the quality. To prevent disappointed customers, remove product that is no longer suitable for sale from the display. Symptoms to look for include wilted leaves, discoloured leaves, pink discoloration on the white ribs, and the onset of soft rot.