Packhouse practices for lettuce
Packhouse practices for lettuce cover the activities from the moment the products arrive in the packhouse to the moment of transport to the intended market. Sorting, grading, washing, packing and cooling are among the main activities. It is very important that the packhouse has sufficient capacity to cool the products, as good temperature management is a requirement to maintain a good quality of horticultural produce. Furthermore, proper cleaning and sanitizing of building and equipment is part of good packhouse practices.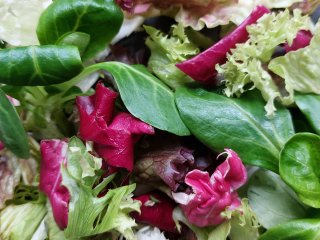 Activities in the packhouse depend on the type of lettuce. Photo by WUR
Well regulated and controlled processes
The activities in the packhouse facilities must be well regulated and controlled. The cooling of the lettuce should begin as soon as possible after harvest. An effective method to quickly lower the temperature of lettuce is by vacuum cooling. Lettuce is very sensitive to moisture loss, which can be reduced by proper packaging, possibly already applied on the field ("field packing"). While whole lettuce can often be sold in its original form, lettuce intended for fresh-cut salads obviously needs further processing steps. They are freshly cut, washed and packaged. Here too, the packaging is of high importance for the shelf-life

Activities at the packhouse before packing
Pre-cooling while avoiding freezing is essential. Photo by WUR

Precooling

Lettuce must be cooled as fast as possible after harvesting. This is most effectively done with the method of vacuum cooling. This enables a homogeneous cooling process. The large leaf area allows a highly efficient vacuum cooling process. The pre-cooling is usually to a temperature around 1 °C. In all cases, freezing should be avoided. The period of vacuum cooling should also be limited to avoid unnecessary moisture loss. Once pre-cooled, lettuce should be kept at low temperature.

Lettuce can be used for processing to fresh-cut. Photo by WUR

Processing

Head lettuce or looseleaf lettuce can be mildly processed for convenience foods. The mild processing consists of at least one of the following processing: cutting, washing and drying. The stem-end is recut and the leaves are cut to the right sizes for ready-to-eat consumption. Washing removes inorganic material (such as sand) and organic material (such as weed), and reduces microbial load. A drying step is required to remove the excess water. This drying process must be optimized per lettuce product to prevent bruising and desiccation.

Boxes should contain a uniform product. Photo by webstoodio/Shutterstock.com

Sizing, grading and classification

The process of sizing, grading and classification should result in uniformity in origin, variety, size and quality. Make sure to discard leaves with signs of decay and damages. Always handle the produce carefully during these processes. Lettuce is classified into classes such as Extra, Class I and Class II. Examples of minimum requirements for whole heads of all classes are that they are crisp and turgid, intact and sound.
Activities at packhouse from packing onwards
Baby Romaine lettuce in a flow pack. Photo by WUR

Packing of whole head lettuce

Whole head lettuce can be packed in cardboard boxes or plastic crates, using film liners or individual packages such as sleeves (flow pack) and foil head wraps. They shall be packaged upside down to prevent or reduce dehydration. When the head side is directed downwards, the relative humidity of the air remaining under the heads remains saturated, which will slow down the dehydration of the crop.

Fresh-cut lettuce in a MA package. Photo by WUR

Packing of fresh-cut lettuce

Fresh-cut lettuce is packaged in bags to control moisture loss and, if necessary, apply modified atmosphere (MA) conditions to achieve optimal gas conditions for oxygen (O2) and carbon dioxide (CO2). Low O2 reduces the oxidation process at the cutting edges, thus reduces discoloration. A high CO2 content is applied in the bags to control microbial growth.

Individual packaging and complete pallets must be labelled. Photo by Photo_Pix/Shutterstock.com

Labelling and palletizing

Filled packages must be stacked on a pallet and labelled with information including packer, shipper, size/class, country of origin and batch number. Further the name of the product (lettuce) + variety, and net weight must be on each box label. Completed pallets must be strapped well in such a way that the packaging cannot shift or fall. As soon as pallets are completed, they need to be moved to the cold storage.

Insect traps help to keep the packhoues clean. Photo by WUR

Cleaning and maintenance

Proper cleaning and sanitizing of buildings and equipment is part of good packhouse practice. Besides maintenance as prescribed by the supplier, a proper cleaning and sanitizing of equipment such as processing lines is necessary prior to use. Sanitizers for use on food contact surfaces must be approved by (local) legislation. Standard Operating Procedures should be in place for sanitation and are especially important to guarantee the safety of fresh-cut product.

Fresh packed lettuce is cold stored until loading. Photo by barmalini/Shutterstock.com

Storage

The best storage temperature for most types of lettuce is around 0.5 °C. Freezing temperatures must be avoided as lettuce is easily damaged by freezing. When storing at a somewhat higher temperature (up to 5 °C), the shelf-life is shortened but may still be sufficient, depending on the market destination. The relative humidity around the lettuce must be high, often helped by the packaging. Lettuce is sensitive to ethylene, so storage with produce that emit ethylene (such as apples or melons) should be avoided.