Lettuce quality
Quality of lettuce is determined by several characteristics that give enjoyment to the consumer. Important characteristics of quality are appearance, colour, texture and flavour. Appearance and colour are examples of external quality parameters. Texture and flavor are examples of internal quality. The quality characteristics are influenced by variety, pre-harvest factors, harvest practices and post-harvest handling. Determination of quality provides an important indication of the remaining storage potential and shelf-life.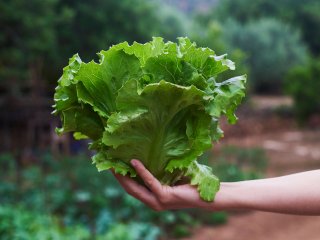 Lettuce of a good quality. Photo by nito/Shutterstock.com
Optimal quality of lettuce
Important quality characteristics of lettuce are the fresh appearance, the typical (usually green) colour and the turgid leaves. The shape should be characteristic of the lettuce type, a good example is "oak leaf". One of the main characteristics of lettuce is its high water content. The moisture levels must be kept high to avoid too much dehydration, which leads to wilted leaves. The leaves are also sensitive to discoloration. Diseases and disorders should be prevented as much as possible. The minimum requirements for good quality include: intact, healthy, clean, fresh in appearance, turgescent, (practically) free of damages, and free of foreign smell and / or taste.
Quality aspects of lettuce
Butterhead lettuce with an attractive fresh appearance. Photo by WUR

General appearance

Each lettuce type has his own characteristics such as size, shape, and colour. In all cases, the consumer will demand fresh-looking lettuce. Leaves should be clean, crisp and bright. The cut ends must be fresh looking. Some small spotting or holes may be accepted. For whole lettuce, a compact head that can be compressed with slightly to moderate hand pressure is often a sign of good quality.

Firm, turgid leaves of iceberg. Photo by WUR

Firmness (turgor)

Lettuce is sensitive to moisture loss. Because lettuce leaves have high surface area that allows moisture exchange, the dehydration of lettuce is a fast process. Furthermore, lettuce leaves are thin and made of a few layers of cells, with no supporting organs. The rigidity of the leaf is assured by the turgescence of the cells. Moisture loss directly results in turgor loss, with visible wilting and shrivelling of the leaf as possible consequence.

Lettuce varieties have their own typical colour. Photo by WUR

Colour

The colour is an important quality parameter. The green colour is ensured by the presence of chlorophyll. Depending on the type of lettuce and consumer demand, lettuce leaves should keep their green or a different colour (red lettuce, for example). The storage conditions are important to maintain the colour. A too long period in the dark will make the leaf more yellowish, while storage with light will enhance the production of the green pigment chlorophyll.

This lamb's lettuce is labelled as mild and nutty. Photo by WUR

Texture and flavour

An important characteristic for the lettuce is the texture. Depending on the type, it may be soft or crispier (crunchy). The flavour can also vary greatly between types of lettuce. For example, iceberg lettuce has a crispy texture with a more neutral flavour. Butter lettuce is softer and 'buttery'. Red, green and oak leaves in salad mixes often have a tender texture, but all with a distinct flavour.

A quality problem visible after cutting. Photo by WUR

Disorders and diseases

Good quality lettuce has no or only minor defects and is free of diseases. In the postharvest supply chain, bruises or leaf injuries can occur due to improper handling. It reduces the appearance and also provides access routes for pathogens that lead to decay. Unfavourable environmental conditions can lead to problems such as wilting and discoloration. Disorders of whole lettuce are not always visible from the outside. A thorough quality assessment therefore includes cutting the head.

A use-by-date is indicated on the packaging. Photo by WUR

Use by date

For the European market, a "use by date" is indicated on packaging of fresh-cut lettuce or pre-washed lettuce products. For whole lettuce or unwashed product, no "use by date" is given, as the consumer is expected to wash the product before eating it. The "use by date" matches with the maximum storage period at optimal storage temperature (see recommendation on the packaging) in which it is safe to consume the product. When the "use by date" has passed, fresh-cut lettuce should not be consumed to prevent any microbial hazards