Analysis of disorders and diseases
Disorders and diseases of fresh fruit and vegetables can be disruptive to your business. In case your QC personnel cannot provide you with conclusive answers or where they could use a sparring partner, we can help out.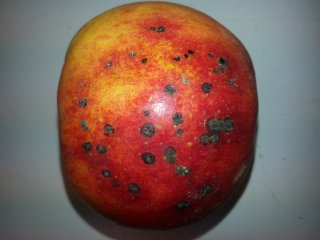 Apple scab. Photo by WUR
Disorders and diseases analysis
Disorders and diseases of fresh fruit at any stage of the supply chain can be analysed. Extended observations can be done to pinpoint the root cause of the problem, so preventive measures in the future can be taken. The outcome and insights will be reported to you in a short report with our recommendations for the situation.

Our specialists will help you in defining the cause of a quality disorder of your fresh fruit or vegetables. Please contact them through the form below to estimate the complexity of your question.