Research Results
Precooling mango
In the GreenCHAINge project an innovative "smart chain" has being developed. Overall goal of the project was to improve the intrinsic quality of the product on the shelf. This research result is about the effect of precooling on mango quality during transport over short distances.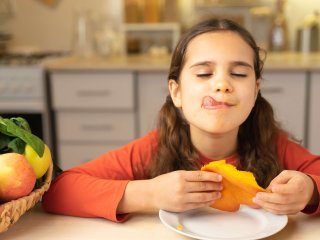 Ready-to-eat mangoes. Photo by Alex Desanshe
Objective
The objective of this research activity was to obtain uniform and ready-to-eat (RTE) mangoes in the retail channel.
We have assessed the effect of precooling mangoes before transport. We also studied if the use of a generator set (genset) during short-distance transport is needed to better maintain mango quality.
Results
When mango fruit is precooled fast (< 6 hours) the mangoes remain firmer than fruit that is precooled slower. A significant firmness decrease from 81 to 77 on the acoustic firmness scale was observed when measuring firmness after transport to the Netherlands.
The use of a genset on the reefer container from the pack house to the port of Pecem in Brazil had no effect on firmness or any other quality parameter. This was found in two shipments in Ocrober and November 2016. A prerequisite is that the mangoes are precooled to transport temperature before the transport and that the duration of transport to the port is not too long.
Conclusion
To maintain mango firmness before the ripening process, mangoes should be precooled fast, i.e. within 6 hours. The use of a genset on the reefer container between pack house and the shipping port has no direct influence on mango firmness.
Take away message
The take away message for industry is that for preserving initial quality of mangoes, it is important to precool the product to transport temperature before shipping.
This project was commissioned and funded by Albert Heijn, Vezet and Bakker Barendrecht and cofunded by Top Sector for Horticulture & Starting Materials.
More detailed information about this research result can be found at: https://edepot.wur.nl/503221.
Questions? Please contact the project manager Eelke Westra through the contact form below.