Research Results
Hypobaric storage of fresh produce and flowers
Hypobaric (low pressure) storage has the capacity to extend the storage and shelf-life of highly perishable horticultural products. Wageningen University & Research (WUR) is testing the performance of this new technology on a range of fresh products. For this, WUR has small R&D hypobaric chambers and larger mobile hypobaric chambers (RipeLockers) available.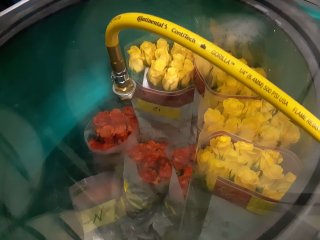 Roses in hypobaric test setup. Photo by WUR
Objective
Maintaining quality of fresh products during storage and transport is an important objective of postharvest management. In this research, we have studied if hypobaric storage is a feasible technique for maintaining quality of fresh fruits, such as blueberries, and of roses.
Result
Produce is stored in hypobaric chambers. The pressure inside the chambers is reduced via a pump, creating a 'vacuum'. This means a reduction in O2 partial pressure. Reduced O2 is known to be beneficial for storage and shelf life of various perishables. The O2, CO2 and pressure levels are automatically controlled and dynamically adjusted to the desired conditions. The environment of low pressure itself may have additional effects, for example, reduction of mould growth.
Blueberries were stored at 1 °C for 5 weeks in hypobaric R&D chambers and compared to conventional storage in perforated bags. Observed advantages of the new system on product quality were: reduction of weight loss, less shrivelling and less decay. The exact settings should be further investigated for optimal results.
In a preliminary test to study the possibilities for flowers, roses were stored at 1 °C for 3 weeks in hypobaric chambers and compared with RA and CA storage. This experiment showed the potential of a better vase-life (reduced botrytis infection) after storage under hypobaric conditions.
Roses resp. blueberries in hypobaric test setup. Photo by WUR
Conclusion
The conclusion of these experiments is that storing fresh products in a hypobaric chamber may have positive effects on keeping the quality of the products. Since the technique is new, optimal settings still need to be investigated.
Take away message
Thanks to the availability of R&D chambers, the sector can now have products tested under hypobaric conditions and be independently informed about the performance on product quality and practical use.
This project was commissioned and funded by Wageningen Food & Biobased Research. For more information, please contact our expert through the contact form below.