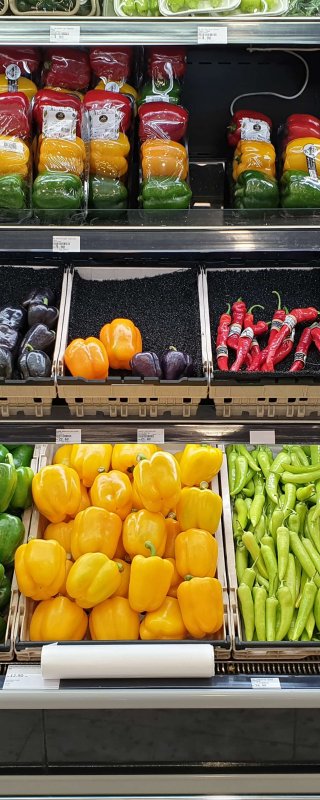 The pepper chain
Practices in each step of the fresh supply chain have a great influence on the postharvest quality and shelf-life of fruit and vegetables. This also holds for peppers. Harvest and cold chain must be well managed to reach the expected pepper quality by the consumer. By using appropriate harvest processes and chain conditions, quality can be maintained longer and shelf life can be extended. Failure to follow these processes may result in a high degree of loss or deterioration of the product to a lower quality class. Every step in the chain is important for success later in the chain.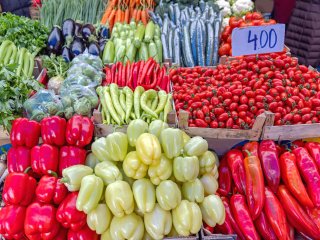 Peppers at a market. Photo by Baloncici/Shutterstock.com
Aim for high quality at each step of the chain
Peppers are available all year round thanks to the production in different countries. Among the largest producing countries are China, India, Mexico, Indonesia, Turkey, and Spain but of these, mainly Mexico and Spain, and to a lesser extend also Turkey, are big exporters of the fruit. Green peppers are harvested when mature, but not ripe. Ideally, the packhouse is just a short distance from the harvest fields. This minimizes the risk on damage during transport and facilitates early cooling in the packhouse. Soon after arrival at the packhouse, processes such as washing, grading and packing start. After pre-cooling, a proper loading in refrigerated trucks or reefers is important to maintain the proper temperature conditions during transport. It is of the utmost importance to have a correct handling by all supply chain actors from the moment of harvest until purchase by the end customer.
Steps in the pepper chain
Many different types of peppers exist. Photo by AJCespedes/Shutterstock.com

Pepper types

Peppers are part of the Solanaceae family (nightshade). They are called differently from one country to another. The hot peppers can be called hot pepper or chili pepper or chili. Whereas the sweet peppers can be called capsicum, bell pepper or paprika. Each category knows several varieties of peppers of different colours and shapes. The hot peppers are classified according to their level of pungency, based on the amount of capsaicinoids and Scoville Heat Unit (SHU).

Peppers ready to be harvested. Photo by Vasin Hirunwiwatwong/Shutterstock.com

Harvest

The postharvest chain starts with the harvest of the peppers. Green peppers are harvested at maturity. In order to get coloured peppers at retail, the peppers are harvested when turning into the final colour. It is best to harvest in the morning when the peppers are crispy, but they should be harvested dry. Shortly after harvesting, the transport to the packhouse should follow.

Temperature measurement of peppers. Photo by WUR

Temperature management

It is essential that peppers, especially for overseas shipment, are cooled as soon as possible. Lowering the fruit temperature delays ripening, minimizes fruit water loss and slows decay. Shortening the time between harvest and cooling results in a prolonged shelf life. Especially for long transit markets, this is important. However, peppers are susceptible to chilling injury that leads to damages and loss of flavour. Therefore they should not be stored below 7°C. Storage in the packhouse and transport from the packhouse to final destination must be properly temperature-controlled

Bell peppers in the packhouse. Photo by Baloncici/Shutterstock.com

Packhouse

In general, it should be avoided to do more handling than strictly necessary, as this increases the risk of mechanical damage. However, packhouse activities consist of many necessary and important steps, such as sorting/grading. Failure to sort and discard immature, overripe, undersized, misshapen, bruised, or otherwise damaged produce creates problems in subsequent marketing. Grading helps the handlers to categorize the peppers according to size and ripeness (colour).

A truck with refrigeration unit for transport at low temperatures. Photo by WUR

Transport

For pepper transported over long distances, transportation is a crucial part of the pepper supply chain. Pre-cooling of pepper is necessary prior to the refrigerated truck or reefer entrance. Controlled Atmosphere (CA) transport is sometimes used to extend the shelf-life in reefer transportation. Peppers must be harvested at the recommended harvest stage for export and stored as recommended for an optimal chain. There is only two to three weeks from harvest to consumption. Temperature monitoring during transport must take place. Also the relative humidity lof the air must be high.

CA room being filled with peppers. Photo by Baloncici/Shutterstock.com

Controlled Atmosphere (CA)

An optimal temperature is the first requirement to maintain good quality pepper. In addition, the storage life can be extended by applying CA storage. But the right settings must be used. A too low level of oxygen or a too high level of CO2 will damage the peppers, while a too high level of oxygen or a too low level of CO2 will shorten the pepper's shelf-life. Similar effect of the temperature is known. If the temperature is too low chilling injuries will appear later in the chain.

Trucks at the docks of a warehouse. Photo by Alba_alioth/Shutterstock.com

Importers and retail

Upon arrival in an importing country, peppers may be stored for an additional period at a wholesaler, depending on market demands. It is important to maintain quality in this so-called 'buffer period' in order to deliver a good quality to the supermarket. The fruit condition in the shop must be sufficient to ultimately arrive at the consumer's home in satisfactory condition.
Did you know that?
Uniformity in size and color is one of the main criteria for peppers to be classified as Class I

Good quality fruits but inconsistent in size or color are Classified in Class II. The price difference between Class I and II depends on season, product availability but may be very substantial.

All peppers start of as green fruits.

Depending on variety, some start to color red, others orange, yellow or purple. If you harvest at a stage when the fruits have just started to color, they continue to develop color after harvest.

Mechanical grading is preferred to obtain uniformity

Grade preferably mechanically to obtain uniformity, but if not available give extra attention to manual grading on uniformity.